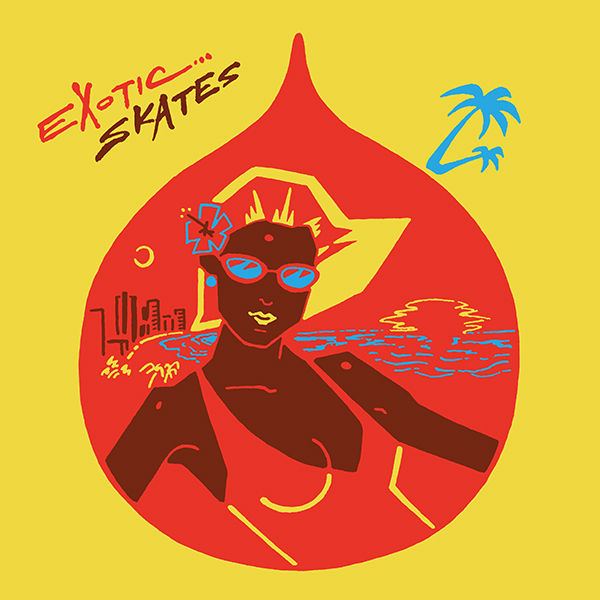 常夏の楽園をイメージした快楽のファンキー・チューン!
黒くうねるグルーヴの上をオリエンタルなサックスのメロディが踊り、ダンサブルなオルガンが常夏の楽園に誘う。
レコーディングはメンバー4人による一発録り。
生演奏のような臨場感のあるエネルギッシュな録音に仕上がりました。
ミックスは内田直之が手がけ、大胆かつグルーヴィーなミックスに仕上がっています。
マスタリングは巨匠・田中三一が担当し、フロアでもリスニングでも心地よくフィットします。
常夏をイメージしたポップなアートワークは、苦虫ツヨシによる作品。
【Genres】
Reggae / Funk
——————————
Release Date:2022.8.17
——————————
"Endless Summer Drops"   (4:46)
【Music Description】
A funky tune of pleasure inspired by an everlasting summer paradise!
An oriental saxophone melody dances over a black undulating groove, and a danceable organ invites you to an everlasting summer paradise.
The recording was done by the four members in one shot.
The result is an energetic recording with the realism of a live performance.
Mixing was done by Naoyuki Uchida, resulting in a bold and groovy mix.
Mastering was done by master musician Sanichi Tanaka, and fits comfortably on the floor or for listening.
The pop artwork, inspired by everlasting summer, was created by Tsuyoshi Nigamushi.
【Profile】■ EXOTIC SKATES
2022年結成。元Black Bottom Brass Bandのサックス奏者MONKYをフロントに、関西バンドシーンで大活躍のオルガン奏者 岩井ロングセラー、ドラムに梅本浩亘、ベースに高木記明という強力なリズムセクションを擁する。
ジャズとスカ・レゲエがファンキーに融合したエキゾチック・ファンクバンド。
Formed in 2022. Fronted by former Black Bottom Brass Band saxophonist MONKY, the band features a strong rhythm section: organist Iwai Longseller, who is very active in the Kansai band scene, Hiromoto Umemoto on drums, and Noriaki Takagi on bass.
Exotic funk band with a funky fusion of jazz, ska and reggae.